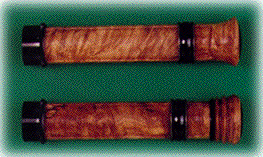 Reel Seats for fine fly fishing rods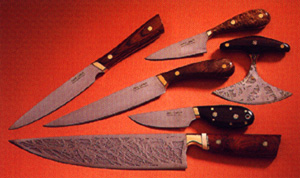 Fine Artistry in Knifemaking.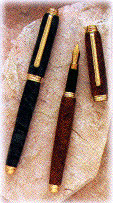 Our pen blanks produced from our clear, dyed, and Double Dyed™ woods are durable, can be precisely machined, and excel as a choice for pen & pencil barrels in the production of fine writing instruments.
WSSI Stabilized Wood Resists:
Cracking, checking, or warping!
Swelling or shrinking!
Color change or fading!
WSSI Stabilized Wood Will:
Not require a lot of finishing.
Resist water & weather!
Sand without raising grain!
Polish to a high luster!
Reviews, Commentary, Tips & Hints for Woodworkers!
Wood Stabilizing Specialists, Int'l., LLC
Ionia, Iowa
Examples of typical products made with WSSI stabilized wood
The "WSSI" goal is to always be on "the cutting edge" with great products and service!
"WSSI" products are used by manufacturers & artisans world wide!
Applications for the processed, stabilized wood processed and produced by "WSSI" are limited only by your imagination!
We use a unique, proprietary process combined with a special blend of monomers and acrylics to stabilize, process, and dye a wide variety of hardwoods and softwoods for a superior product for artisans and manufacturers requiring extra durable material.
This process is the result of over 15 years of research, development, testing, and production. We do not laminate; we achieve complete penetration and stabilize materials in original form, with no change other than color/figure enhancement and a high degree of permanent durability.
This results in material that is resistant to temperature changes, humidity extremes, UV rays and saltwater as well as many acids and solvents commonly encountered in day-in-day-out use.

---
The examples shown on these pages, represent a small sampling of fine products created using stabilized wood and other materials treated & processed by WSSI.
While we always have wood available, if you are a manufacturer or producer of wood products and have wood you want treated, we are always happy to provide a quote and details pertaining to treatment and stabilization of wood you supply. Visit our pricing & info page or email with questions, comments, or special material needs.
Inquiries can also be submitted through the contact form, or call us toll free from the US or Canada at 1-800-301-WSSI (9774) or, if calling internationally, 1-641-435-4746.
Stabilized wood has unique qualities and advantages for manufacturers and artisans producing a variety of products.
Mike Ludemann
Ionia, Iowa
USA